About This Company / Business
Care Free Homes, Inc. is a family-owned home improvement & construction company located in Fairhaven, Massachusetts. We specialize in roofing, siding, windows, decks, porches, sunrooms, additions, and new home construction. Since 1978, we've provided thousands of homeowners with quality craftsmanship, outstanding product warranties, and reliable customer service.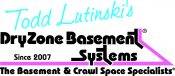 About This Company / Business
All Things Basementy! DryZone Basement Systems offers free estimates to help customers with basement and crawl space waterproofing, basement air sealing and foundation repair.
About This Company / Business
Wood Pro Inc. is a 27 year old flooring supplier offering wood flooring of all types, as well as waterproof vinyl flooring and waterproof wood flooring.