Landscaping
About This Company / Business
GreenAce Lawn Care is a local, licensed and insured company based out of Foxborough, Mass that offers fertilizing, weed and insect control, and other lawn maintenance services to help you grow a beautiful, healthy lawn. We support and service surrounding towns in Norfolk and Bristol County.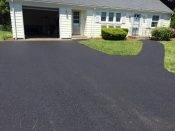 About This Company / Business
We are a full service Asphalt Maintenance & Paving company. Services include: complete driveway rip out/installation, new construction driveway additions, crack sealing, sealcoating, line striping, pot hole repair.
About This Company / Business
Tertill Corporation offers robotic weed control and customized organic fertilizers for your vegetable garden – delivered to your door. Visit booth #413 to see our award-winning Tertill Weeding Robot and our new Tertill Garden Program that includes a free soil test, customized Tertill Organics fertilizers, a smartphone app that organizes your garden info, and personalized support. Garden happy! It's easy with Tertill.