About This Company / Business
GUTTERS - SHELVING - MIRRORS - SHOWER DOORS - INSULATION - WATERPROOFING - FIREPLACES - GARAGE DOORS
https://www.allinonemooreinsulation.com/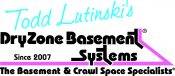 About This Company / Business
All Things Basementy! DryZone Basement Systems offers free estimates to help customers with basement and crawl space waterproofing, basement air sealing and foundation repair.
About This Company / Business
Wood Pro Inc. is a 27 year old flooring supplier offering wood flooring of all types, as well as waterproof vinyl flooring and waterproof wood flooring.