Reach Over a Quarter Million Affluent Homeowners in MA, RI & NH Each Episode
Prime Time Weekend
Local Home Improvement Show on

WCVB Channel 5 Boston
Streaming on Facebook, Instagram, YouTube and on NewEnglandHomeShows.com
There is no other home show like this!
Why Become a SHOWcased Company

Being SHOWcased on the New England Home Show will align your brand with other leading home industry companies that service the Massachusetts and Rhode Island markets. Each episode features informative and entertaining content that engages homeowners to work with you on upcoming Home Improvement projects.
WATCH A WONDERFUL EXAMPLE OF A 5-MINUTE SHOWcased SEGMENT FEATURING NEWPRO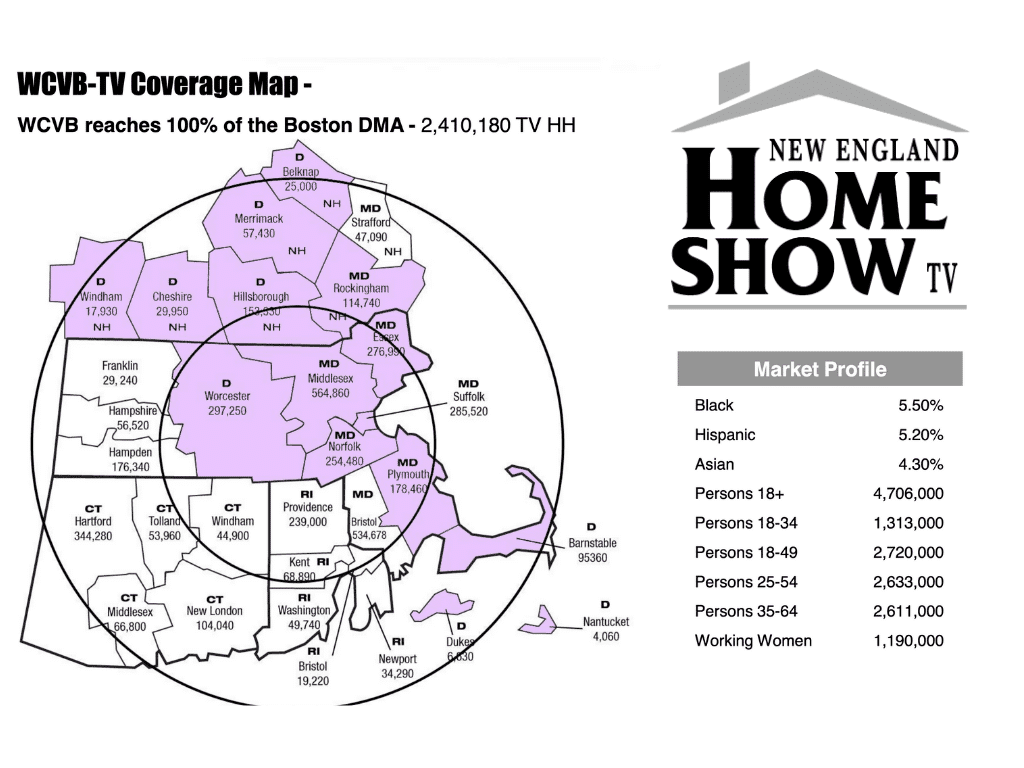 SHOWcased PACKAGES
Only 3 Features Per Episode / 12 Per Four Episode Series
$
$10,500
/

includes production ($9,300 w/out)
(1) 5-minute SHOWcased segment and (1) minute of commercial time in the other 3 shows of your chosen series of the New England Home Show

(1) position in the next available Happy Homeowner Sweepstakes *** 

(1) additional dedicated email blast to our email database

(1) rotating SHOWcased Exhibitor banner in the NewEnglandHomeShows.com Virtual Marketplace

(1) landing page in the NewEnglandHomeShows.com Virtual Marketplace
COMMERCIAL PACKAGE
Only 4 Packages Available Every 4 Episodes
$
$4,500
/

production not included
(1) minute of commercial time each show in a 4 episode series of the New England Home Show (2 – 30-sec spots each show) 

(1) position in the next available Happy Homeowner Sweepstakes **** 

(1) landing page in the NewEnglandHomeShows.com Virtual Marketplace
LENDING PARTNER SPONSOR
One Exclusive Opportunity Every 4 Episodes
$
6,500
/

no production needed
lending partner sponsor name recognition for a 4 episode series of the New England Home Show which includes name mentions and logo impressions during transitions.

presenting sponsor of the next available Happy Homeowner Sweepstakes*** 

(2) dedicated email blast to our email database

(1) rotating SHOWcased Exhibitor banner in the NewEnglandHomeShows.com Virtual Marketplace

(1) landing page in the NewEnglandHomeShows.com Virtual Marketplace